After what has been a relatively quiet weekend in the crypto market, the two altcoins Synthetix (SNX) and Ontology (ONT) both stand out as two of the strongest performers over the past week, outperforming bitcoin (BTC) by a wide margin.
As of press time on Monday (10:32 UTC), SNX was one of the top weekly gainers in the crypto market, taking the throne among the top 35 coins by market capitalization with a 35.71% rise over the past 7 days.
The monthly increase in its price is more than double its weekly gain (77.55%).
Notably, the coin also traded higher today, gaining 2.54% in the last 24 hours to trade at USD 1.44.
The decentralized finance (DeFi) platform, which is focused on tokenized derivatives of real-world assets, has seen exceptionally strong growth in its price since the crypto market crash in mid-March – having quadrupled in price since its bottom on March 16.
The cryptoasset also looks interesting from a charting standpoint, having recently formed a so-called "golden cross" in its chart with a crossing of the important 50 and 200-day moving average lines. Golden crosses are traditionally seen by trend following traders as the beginning of a bull market and an attractive point to take up long positions.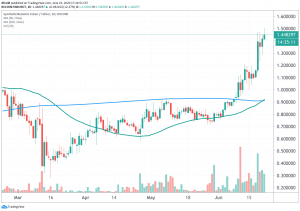 On the fundamental side, the Synthetix platform announced on Friday that it has partnered with fellow DeFi project Ren Protocol and the decentralized trading platform Curve to create an "incentivized pool to provide liquidity for tokenized BTC on Ethereum." Synthetix calls this new concept "yield farming," as it aims to yield "an attractive basket of token incentives" for those that provide liquidity to the pool.
Even stronger today in the top 35, however, was Ontology, which rose 10.85% in the past 24 hours – making it at the moment the best performer in this category.
Furthermore, it also increased 20.74% in the past week, to trade at a price of USD 0.629.
Zooming further out, however, ONT's performance has been significantly weaker than SNX since the March market crash, and the asset is still only slightly above its opening price on March 12 – known as crypto's Black Thursday.
Overall, the asset is up by about 195% since the market panicked as COVID-19 spread across the globe.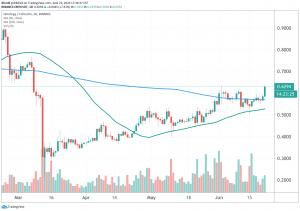 The latest gains for ONT comes after Bitcoin Suisse, a Swiss crypto-focused financial services provider, announced that they have partnered with Ontology to list the ONT token on their European trading platform. Similarly, the Ontology wallet will also add support for a Swiss franc-based stablecoin offered by the company, providing ONT users with access to one of the world's traditional safe-haven currencies as a crypto token.