The average crypto market sentiment measure, Sentscore for the top 10 coins by market capitalization stands at 4.46 (neutral) this Monday, according to Omenics, a crypto market sentiment analysis service. Nine out of the top ten tokens remain in the neutral zone, with Monero (3.7) being the only one lurking in the "somewhat negative" category in terms of Sentscore despite somewhat positive last 24 hours (11.7% grow in overall Sentscore).
Bitcoin (BTC) occupies the top position, and it is the only coin nearing the "somewhat positive" sentiment zone. Apart from Bitcoin, Tether (USDT) is the only coin from the top 10 coins with the overall Sentscore in the neutral range.
On the positive note, Monero (XMR) is the only top 10 coin that remains in the negative zone, while other top digital currencies remain in the neutral area. At pixel time, the highest social buzz surrounds Siacoin (SC), which scores 6.4 in terms of the total level of interest today.
Sentiment change among the top 10 coins*:
Watch the latest reports by Block TV.
Interpreting the Sentscore's scale:
– 0 to 2.5: very negative
– 2 to 4: somewhat negative zone
– 4 to 6: Neutral zone
– 6 to 7.5: somewhat positive zone
– 7.5 to 10: very positive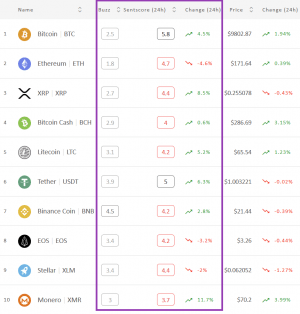 A number of coins have managed to increase their Sentscore this week. For example, OmiseGO (OMG) improved by more than 10% during the last week. Despite that, its overall Sentscore remains negative, as currently, it stands at 3.4. Ethereum Classic (ETC) has managed to increase it's Sentscore by more than 10%, with the most significant improvement coming from the news surrounding it.
Bitcoin Sentscore: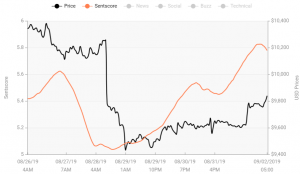 On the opposite end of the list, we find Chainlink, Monero, Binance Coin, and XRP. Chainlink's Sentscore has shrunk 19.7% in the last seven days, followed by Monero's -11.2%, BNB's 10,7% drop in Sentscore. XRP has declined 9.6%, too, as it's sentiment dropped due to negative news, social sentiment, and poor technical score.
Out of 40 coins that are currently tracked by Omenics, 12 now lurk in the negative zone this Monday. The remainder of cryptocurrencies come across as neutral, with BTC being closest to the somewhat positive market sentiment territory.
___
* – Methodology:
Omenics measures the market sentiment by calculating the Sentscore, which aggregates the sentiment from news, social media, technical analysis, viral trends, and coin fundamentals based upon their proprietary algorithms.
As their website explains, "Omenics aggregates trending news articles and viral social media posts into an all-in-one data platform, where you can also analyze content sentiment," later adding, "Omenics combines the 2 sentiment indicators from news and social media with 3 additional verticals for technical analysis, coin fundamentals, and buzz, resulting in the Sentscore which reports a general outlook for each coin." For now, they are rating 40 cryptocurrencies.