Bitcoin really hasn't done well over the past day. After printing a false breakout candle on Saturday that brought the price of the asset to $9,200, there was a rapid and violent reversal. What followed was a dramatic and steep downtrend that has taken the price of BTC as low as $8,300 just last hour (as of the time of this article's writing), marking a 10% drop from the highs.
Here are what analysts expecting is next for Bitcoin.
The Bullish Case for Bitcoin
Although the price action that has transpired over the past 24 hours has been decisively bearish for Bitcoin, there are some expecting the asset to bounce.
NebraskanGooner, a founder of exchange Level and a noted crypto trader, remarked that "as scary as that drop was," Bitcoin has fallen to his daily trendline support, depicted below. The trendline has acted as both resistance and support for at least two months now, suggesting it is a crucial level to keep an eye on.
As scary as that drop was, we fell to my daily trendline support.

If it holds, there's a possibility that we can retest $9500 area.

I'm not sure how likely it seems at the moment, but it's a valid possibility for the time being.

Need to see how today closes. https://t.co/VTDbrognWB pic.twitter.com/nheQvcb3of

— NebraskanGooner📈 (@nebraskangooner) March 8, 2020
With BTC currently holding the trendline NebraskanGooner indicated, he suggested that there is a chance that it can rally 15% or so back to $9,500, the top of the range he defined in the chart above.
NebraskanGooner isn't the only bull in this environment.
Prominent trader Big Cheds recently wrote that Bitcoin has "his permission" to "bounce now." Backing this lofty sentiment, he pointed to a chart that showed that Bitcoin has found support at $8,400 over three times in the past few weeks.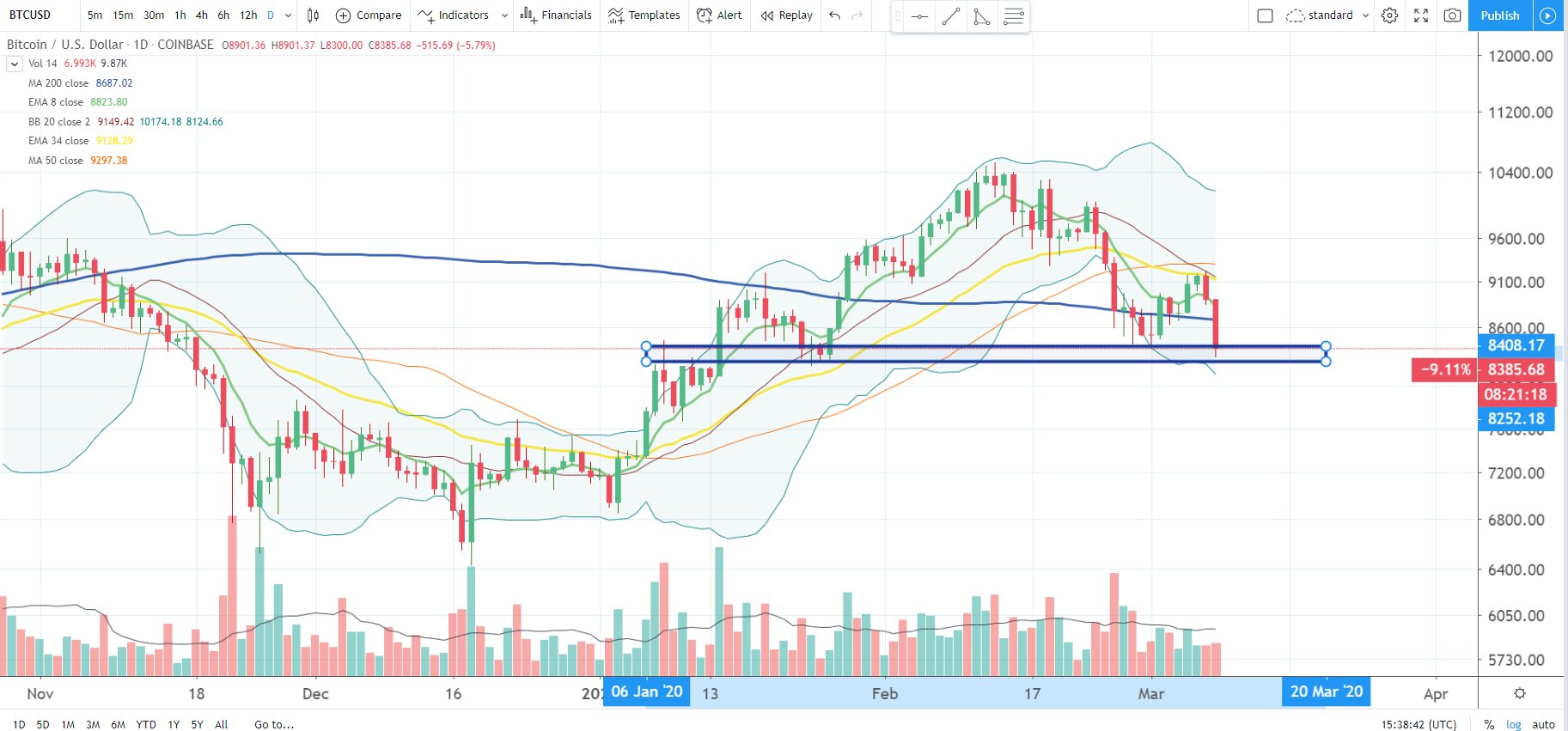 The Bearish Case
Despite this bullish sentiment, the ball is seemingly in the court of bears, so to say. (Case in point, the price of Bitcoin has fallen to $8,200 in the minutes that I've been writing this article.)
Cryptocurrency consultancy founder Burger remarked that Bitcoin could be printing a bearish head and shoulders pattern, which could mark a medium-term reversal for the price of BTC:
H&S pattern on the daily chart for $BTC which often marks the start of a reversal.
Combination of #Corona FUD and TA makes it a plausible scenario; H&S pattern on the daily chart for $BTC which often marks the start of a reversal.

Unsure how all the Corona FUD will affect BTC price. It shouldn't affect it too much from a theoretical POV, but emotions ey. pic.twitter.com/QWkYW7yWHM

— ₿urger (@BurgerCryptoAM) March 8, 2020
He added that with the existence of the coronavirus "FUD," there may be some adverse effects on the cryptocurrency market — as can be seen with traditional markets already.

Photo by Joshua Karthik on Unsplash